Renting Vs. Owning?  First-Time Buyers Enjoy Big Benefits From Owning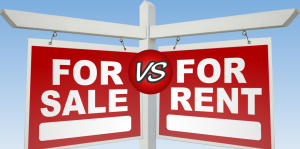 You've heard the news:  Some young buyers are putting off investing in homes, preferring instead to rent.  But what if that's not quite true?  A recent report from the American Enterprise Institute's National Center on Housing Risk found that first-time buyers – typically young twenty-or thirty somethings – are still an important part of the housing market.
The center found that more than 55% of all government guaranteed mortgages – mostly those insured by the Federal Housing Administration – were taken out by first-time buyers in December of 2014.  And overall, first-time buyers accounted for about 50% of all mortgages closed in that month.
This indicates that first-time buyers still recognize the value of buying a home.  If you're debating (or know someone who is) between renting or joining the ranks of first-time buyers, here are some benefits of owning to consider before making your decision:
Equity:  When you own a home, and pay down your mortgage loan each month, you are building equity.  You can tap this equity in the form of home equity loans or lines of credit to help pay for home renovations, a child's college education, a dream vacation or just about anything else.
Control:  When you buy a home, you have more control over your monthly expenses.  Yes, your property taxes and homeowners insurance payments can rise.  But when you rent, your landlord can at the end of your lease bump up your rent too.  When you buy, you know that the principal and interest portion of your mortgage payment will not change if you've taken out a fixed-rate mortgage loan.
Appreciation:  No one can guarantee that your home's value will rise after you buy it.  But there is always that chance, and it's actually a pretty good chance if you look at historical trends.  When you rent, you won't make any money when it's time to move to a new residence.   When you own a home, you may have the opportunity to sell it at a profit when it's time to move.
Tax Benefits:  Owning comes with a wide-range of tax benefis, too.  For starters you can write off your property taxes, mortgage interest and mortgage insurance premiums every April 15.